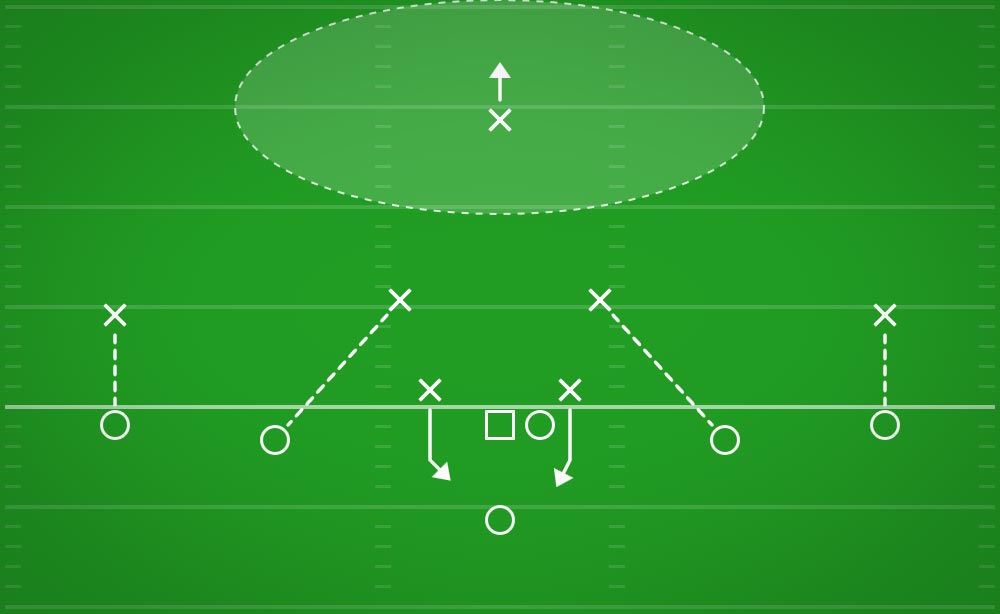 The Cover 1 defense is a great defense to use when you want to add an extra layer of protection behind your defensive secondary. Not only does it allow you to man up on each of the wide receivers, but it also provides your team the ability to place your best ball hawk over the top to spy out opportunities to support the other defenders and go make big plays on the ball.
When employing the Cover 1, you will most likely want to place one of your best players as the Safety who controls the zone at the top of the field. Not only does this play allow the Safety to be a extra layer of defense against anybody who breaks through, but it also allows the Safety free reign to spot opportunities to make a play on the ball and get interceptions. Therefore, give your Safety room for creativity. Locking him down too much to the very center of the field may take away some turnover opportunities if he feels too restricted to go out and try to make a big play.
Because your Safety is scanning the field from back deep, it will make it hard for the defense to successfully complete any long passes. You may give up some shorter plays underneath, but by placing your Safety back deep behind everyone, you will give up the big play less often.
To make this play a bit more aggressive, your Cornerbacks can play tighter defense on their man, knowing that they at least have a last resort help behind them from the Safety playing the deep Cover 1 zone, in the case that their man is able to speed away behind them.
All in all, this play features simple assignments that can be quickly taught to your players in any flag football league, while still providing for your most athletic defender to scan and defend a large portion of the field.